Fluorescent – Emergency & Non-Emergency
Non-emergency and emergency options. The emergency light automatically recharges during normal operations and lamps turn on when there is a power loss.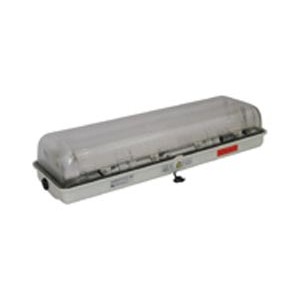 Product Information
Applications
The GRP increased safety fluorescent light fitting is manufactured from glass fibre reinforced polyester and are suitable for use in Zones 1&2 applications. Suitable for applications across many industries where reliability and safety are of the highest priority such as offshore, mining and metal refining, marine and petrochemical manufacturing.
Features
Central mechanical interlocking devices
Twin 14W, 18W, 28W and 36W lamp options
T8 or T5 Lamp holder
EOL (end of life) on ballast
Technical Information
Protection Ratings
Ex deq IIC T4 Gb / Ex tD A21 T80ºC
Ex deq mb IIC T4 Gb / Ex tD A21 T80ºC (emergency)
Ambient Temperature
-20ºC ~ +40ºC
Rated Voltage
AC 110-240V, 50/60Hz
Range
CZ065/6 Series
Inclusions
2 x Lamps
Internal brass plate
Dust cover on key locks
Construction
Reinforced glass fibre polyester
Polycarbonate diffuser
Order Guide
| Catalogue No. | Watts (W) | Length (mm) | Height (mm) | Width (mm) | Fixings (mm) | No. of Lamps | Type | Weight (kg) |
| --- | --- | --- | --- | --- | --- | --- | --- | --- |
| FLUG014X2C | 14W | 725 | 145 | 222 | 400 | 2 | Non-emergency | 5.0 |
| FLUG018X2C | 18W | 725 | 145 | 222 | 400 | 2 | Non-emergency | 5.0 |
| FLUG028X2C | 28W | 1335 | 145 | 222 | 800 | 2 | Non-emergency | 7.9 |
| FLUG036X2C | 36W | 1335 | 145 | 222 | 800 | 2 | Non-emergency | 7.9 |
| FLUG014X2CE* | 14W | 725 | 145 | 222 | 400 | 2 | Emergency | 6.8 |
| FLUG018X2CE | 18W | 725 | 145 | 222 | 400 | 2 | Emergency | 6.8 |
| FLUG028X2CE* | 28W | 1335 | 145 | 222 | 800 | 2 | Emergency | 9.9 |
| FLUG036X2CE | 36W | 1335 | 145 | 222 | 800 | 2 | Emergency | 9.9 |
~